REVIEW: Benefit Cosmetics They're Real! Mascara & Push-Up Liner in Black
1:52 PM
So I stumbled upon that post on Benefit Australia's Instagram. Considering that I walk past Myers every day to class, I decided to pop in to join the VIP waitlist, and grab the free samples and tutorial as well. Basically they're just promoting the They're Real! Mascaras & Push-Up Liners which come in 4 new colours; Beyond Green, Beyond Brown, Beyond Purple, and Beyond Blue.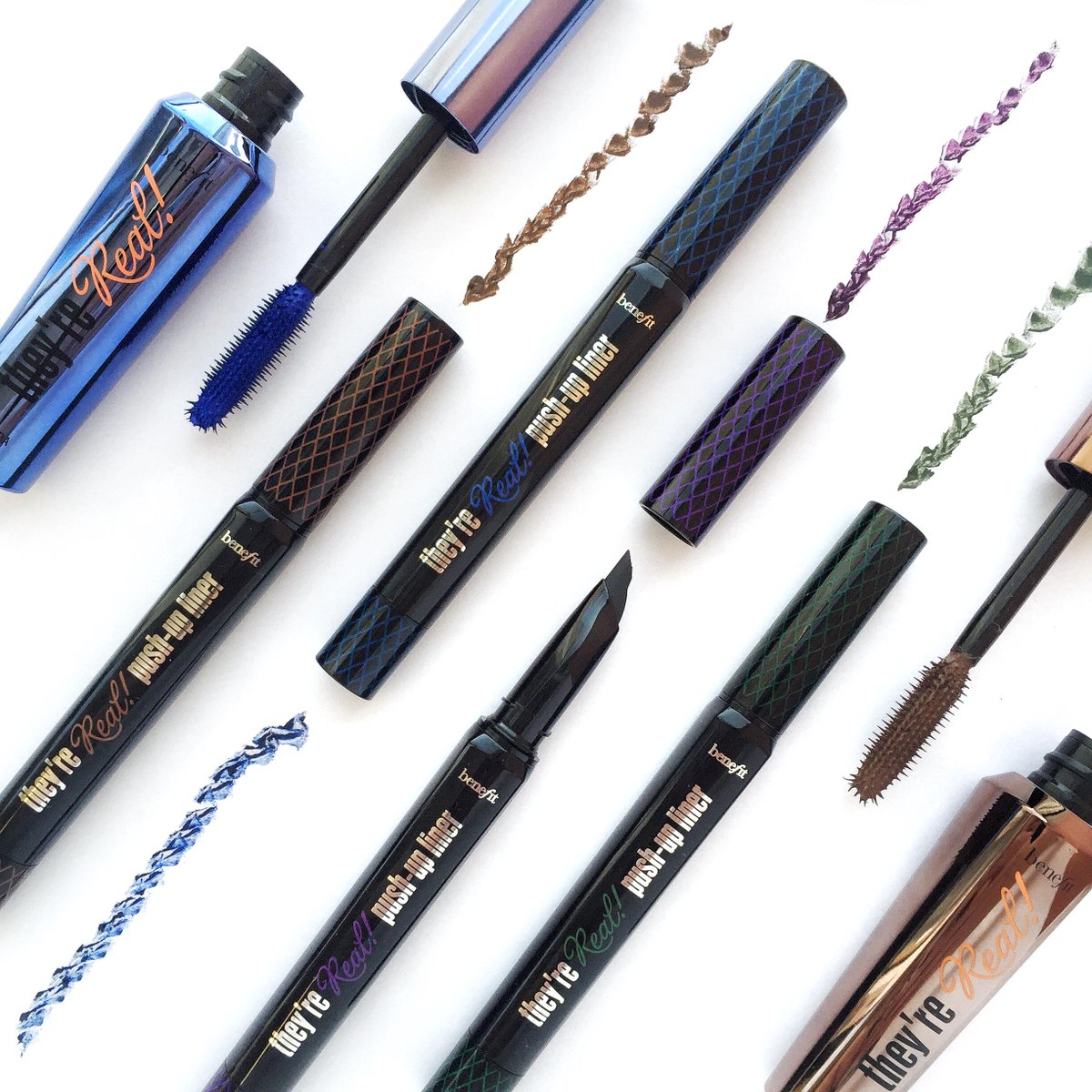 So these are what the deluxe samples look like. They're actually pretty small but good for a few uses, I suppose.
Benefit They're Real! Mascara in Black (RRP $38 Full Size)
So this is what Benefit claims the They're Real! Mascara can do
"
They're Real! The mascara that's beyond belief. They're real! Mascara lengthens, curls, volumises, lifts & separates.
The jet black, long-wearing formula won't smudge or dry out. The exclusive brush is specially designed to maximize the performance of the long-wearing, glossy formula-revealing lashes you never knew you had!
Staggered bristles grab close to the root, boosting length & volume beyond belief. The precision bristles on the custom-domed tip lift, define & curl even your tiniest lashes. The end result...luxurious, silky lashes that won't smudge, clump or dry out."
In my opinion, I don't think that it does exactly as it says? It definitely lengthens it but only by a little bit. When you've got to pay that amount of money for mascara, you'd expect it to be worth it. The only thing I liked about this mascara is that it's really long-lasting.
It's also very build-able. So if you're the kinda girl that likes really thick mascara then this would be perfect for you. Another thing is the brush, it's just straight and it isn't curved, which makes it hard to curl your lashes at the inner and outer corner of your eyes.
Considering all this, I'd just stick to my Maybelline Volum' Express The Falsies Mascara.
This is not only long-lasting, but comes with a curved brush as well which makes application so much easier. Plus, it's pretty easy to wash out as well, so no lashes are lost in the name of beauty!
Benefit They're Real Push-Up Liner in Black (RRP $35 Full Size)
Benefit Cosmetics claim for the eyeliner,
"
FINALLY! the FIRST EVER lash-hugging gel liner pen! The custom AccuFlex soft, angled tip makes it BEYOND EASY to get close to your lashline for bigger, sexier eyes in seconds. It's matte black and doesn't smudge, budge or dry out. The closer the line, the bigger the eye!"
It's not that far off from doing what it says it does. The soft, angled tip really does make application extremely easy, which is perfect for a beginner like me.
Considering I got the small deluxe sample, it was a little tricky but I've held the full-sized one and the shape of it really gives a comfortable grip.
The gel that comes out is smooth and dark, so you don't have to go over it again and again.
It lasts for about 6-7 hours, but keep in mind my eyelids get pretty oily so it could last longer for you. For me, it smudges into this smoky eye effect, which is quite nice.
One thing I don't like is it's extremely hard to remove. Which is why Benefit made a make up remover specifically for this, so get that as well if you're planning to buy this. I haven't tried it, but I've read reviews on it and apparently it really works.
Personally, I don't like wearing make up everyday, so as much as I love Benefit Cosmetics products, these two just aren't worth it enough for me to spend that amount of money. If money's not an issue for you though, try it out!
That's all I have for today. Thanks for reading and if you've tried this out or know of any other alternatives, let me know in the comments below.